Khel Now Gear Review: ADIDAS MESSI 15.1 "SOLAR SLIME"!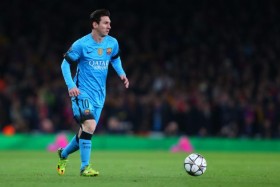 On the morning that Barcelona's Champions League knockout campaign began, adidas rolled out Messi's first signature colourway of the year. A bright 'Solar Slime' design that was worn for the first time against Arsenal at the Emirates.
AMG and Khel Now were the first to field test this exclusive piece of footballing heritage out! We rated it on Agility, Comfort and Fit, Touch and Grip and Shooting.
adidas have brought the "Solar Slime" to the forefront, installing it as the lead colour on the fourth update of Messi's first ever signature silo. Vibrant green with massive logos of your own name on each boot. When you're the best player in the world, you can pretty much do what you want!
It's bright and beautiful– not that Messi needs any help standing out. "Solar Slime" is chosen by Messi, as well as the rest of the constitution of the boot. Messi will lace up his Messi Frames as Barca return to Champions League action and will aim to spearhead his side to consecutive European titles.
These boots are built for you to win.
Related
Tagged under:
15.1
,
adidas
,
adidas india
,
agility
,
amg
,
anglian
,
anglian football
,
anglian management group
,
argentina
,
arsenal
,
arsenal barcelona
,
barcelona
,
boots
,
cat
,
champions league
,
comfort
,
dog
,
emirates
,
field
,
field test
,
fit
,
football
,
football boots
,
football shoes
,
gear
,
google youtube
,
grip
,
khel
,
khel now
,
leo messi
,
lionel
,
messi
,
messi brace
,
messi vs cech
,
now
,
passing
,
review
,
shooting
,
solar slime
,
test
,
touch
,
youtube