FIFA World Cup 2034 – Is it India's way forward to finally invigorate its game?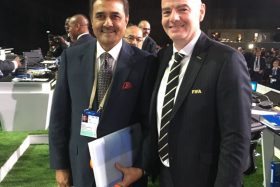 Is hosting the FIFA World Cup really the way to go for India to make it at the big stage?
Whilst there are a great many opinions in favour of India staging a bid for hosting the FIFA World Cup 2034 as it might bring India to the centre stage of the world and also encourage the young generation to take up the sport. However there are those with a counter suggestion like co-author of the widely acclaimed book Soccernomics, Simon Kuper. Simon believes that although India has hosted the U-17 FIFA World Cup 2017, it still lacks the facilities and infrastructure needed to build a world class football stadium. He adds that instead of spending a massive fortune on building these World Class Stadiums, India should invest that money on building simple all weather fields for budding young footballers at the grassroots level. The last thing India needs as a developing nation that wants to promote the sport is end up in the same situation as South Africa, post the 2010 World Cup – left with a lot of white elephants. 
While Football keeps on growing as a sport in terms of popularity in India, it still has many miles to go when it comes to the development and promotional aspects of it. Furthermore, if India really wants to qualify for the FIFA World Cup or better yet, win it, then it needs to shift its focus to the grassroots level and not so much on its National Team. "There isn't much point in paying huge salaries to big-name foreign coaches to coach your national team, as China did with Marcello Lippi. By the time players are working with him, they are already in their twenties and almost fully formed. Nor do you need a strong domestic league to have a good national team. In fact, India and China will improve once their best players start leaving young to play in the world's strongest leagues — that's where they will get better, not playing at home", Kuper was quoted as saying.
Towards building an encouraging environment for football in India, there have to be concerted efforts to bring up the sport at the grassroots level. It is imperative that these efforts be backed both by the State as well as the private players in the Sport Industry. India could use its huge number to its advantage by getting as many kids involved with the sport by building football fields in their neighbourhoods. Kuper believes that giving the youth some much needed attention right now could prove very beneficial and help replicate the success of Algeria (World Cup 2014), Iceland (Euro 2016 and World Cup 2018) and Portugal (one of the best footballing nations of the world) for India in the near future.
Changing Today For A Better Tomorrow:-
Anglian Management Group (AMG) is one such private player that is committed to improve the current scenario of Sports in India. The Sports Advisory branch of Anglian Omega Group, AMG's goal is to provide personalized 360-degree services to top Indian sports professionals, teams, leagues, clubs as well as corporations involved in the business of sports. In addition to helping individual sports professionals unlock their marketing potential, AMG is also actively working with brands and corporations to create unique sporting solutions and properties across India.
Some of its major projects include partnering with the inventor and leader of Synthetic Turf market in India, AstroTurf. From the World Cups to Professional clubs to Universities or even recreational full size and 6v6 pitches, AstroTurf is the leading name in synthetic turf worldwide. Being one of the iconic brands in sports, AstroTurf, in its alliance with AMG, is focused and committed to building artificial turfs of the highest quality, durability and performance in India. Some of its installations in India include the Reliance Corporate Park in Navi Mumbai and two pitches at Adidas the base in Plaza Farms, New Delhi. Furthermore, these top notch synthetic fields are Low maintenance, eco-friendly and built to prevent any kind of injuries. Also, these are much more durable than the conventional grass fields (lasting about 8-10 years at the very least) and do not require any water which is very beneficial for regions like India where temperatures can rise up to 40-45 degrees. Armed with the innovative Magic carpet II system, these pitches can now easily be converted to accommodate any other requirements, thereby allowing them to organise different events and generating more revenue.
From Football to Hockey and even Track and Field, AstroTurf and AMG are firm in their resolve to cater to a variety of requirements without compromising on the quality of their installations, which is probably why they have been approved by FIFA and the Synthetic Turf Council. FIFA understands the importance of building sports infrastructure and quality artificial turfs in a developing nation like India, which is continuously striving to make a mark on the sports and Athletics front in the world.
Case in Point, Earlier this year AstroTurf by working in tandem with AMG, was able to install its first artificial pitch in Nagpur for SlumSoccer – an organisation that uses football to bridge the gap between people divided by economic barriers in India. The organisation helps its players find meaningful employment in various schools, companies or even as trainers at SlumSoccer. The local players can now enjoy playing football to FIFA specified standards at their facility. 
Having mentioned the various projects of AMG and AstroTurf in India above, it is pertinent to note that these initiatives shall provide the necessary impetus to bring up sports at the grassroots level. There are plenty other initiatives taken up by the Anglian Management Group with a view to improve the standards of sports in India as well. Goals for Girls (Non-profit organization using football to teach young women leadership and inspire community change), YUWA (organization with a focus to instil confidence and build character in young girls from impoverished backgrounds in rural Jharkhand) through sports and education, SEPT, Coaches across Continents and Magic Bus etc. are just some of the organizations that the AMG has collaborated with as part of its CSR to bring about fundamental changes in sports in India.
Related
Tagged under:
adidas
,
AIFF
,
amg
,
anglian
,
anglian management group
,
Anglian Sports
,
artificial grass
,
artificial turf India
,
astroturf
,
football
,
grassroots
,
india
,
Indian Football Team
,
indian premier League
,
infrastructure
,
newdelhi
,
Soccer
,
sports
,
sports in india
,
sports infrastructure
,
Squash
,
turf