Odd Brazilian Out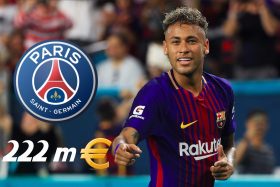 -By Nikhil Sharma
(CEO, Anglian Sports Management Group)
The World Record for Transfer fees of a Football player is all set to be broken again. Neymar Jr. is all set to end his love affair with FC Barcelona and start a new one at Paris Saint Germain. Paul Pogba from Juventus to Manchester United for € 105 M wasn't enough the Football world. Each season the stakes keep getting higher & higher.
Indications are a € 222 M transfer fees coupled with € 30 M a year in post tax player fees over 5 years is what will ultimately be agreed upon. That's almost € 600,000 a week, doubling his current wages at Barca. Paris will again dance to the Samba flair.
PSG the dominant force in French Football hopes to rise to become the darling of European Football.
Not the most accurate way of looking at things but just to put the move in perspective, I looked at various club valuations across Europe & what money would it take for someone to buy these top European clubs in each country. A quick look at KPMG's The European Elite 2017 Club Valuations list seems to indicate that there are only 15 clubs in Europe (and possibly in the world) which would be more expensive than Neymar Jr, an individual at this point in time.
The methodology of course isn't exactly one that valuations experts will subscribe to. For one, it compares apples to an orange: clubs to an individual player and second that both player transfer fees & his wages for the next 5 years (which at the moment of writing this article haven't been confirmed) are taken into consideration to arrive at his market valuation. The hypothesis being in order to get Neymar to play in the blue of PSG that's the money the Paris club needs to have. Fairly similar to someone wanting to buy a club right ? Let convenience drive us on this one and hence if you have the €s to buy Neymar and have him play for your club, you can very well buy a Galatasaray, Benfica or even an Ajax with the same money. The club might or might not need further capital injection over the next 5 years. You are the owner, so you decide how to run your 'Business of Passion'. And you don't get the Brazilian.
Related
Tagged under:
barcelona
,
Brazil
,
euros
,
football
,
France
,
LaLiga
,
Ligueone
,
Neymar
,
Paris
,
PSG
,
Spain
,
transfer