Astroturf – The Best Football & Multi Sports Turf!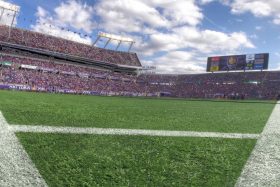 With the wide selection of synthetic turf systems — whatever the venue or sport — AstroTurf has it covered.
AstroTurf is now in India with AMG and Fraser Edwards! Their products are cutting edge in the world of sports turfs and have a lifespan and warranty which is the highest in the industry. We have a highly reputed base construction and installation team in India and provide turnkey services for anyone looking to set up full or smaller sized pitches.
Our latest installation is in Delhi at the centre of amateur football in the capital, Plaza Farms. They are installing the superb 3DX52 product which has been installed in some of the top stadiums and over 3000 pitches across the world!
AstroTurf's premium system series boast heavy face weights for the best the industry has to offer in player protection, aesthetics, and durability. These systems are driven by the latest research and technology that are pushing the industry toward the most grass-like surfaces yet.
AstroPlay Series 
Certain challenges must be overcome in order for a field to be classified as the upper echelon of synthetic surfaces.
Elite Pitches Must:
Replicate natural grass by minimizing the splash of infill particles that sprays when players tackle, strike a ball or change direction.
Provide the most grass-like energy restitution and reduce joint fatigue
Maintain the most uniform, predictable playing surface over time
Reduce the chances of concussion by absorbing the impact of a fall on a surface
Ensure optimal cleat release and reduce torque transmitted to joints
Deliver the extreme usage expected of synthetic playing surfaces
For these reasons and more, AstroTurf launches the AstroPlay product line specifically for soccer. These systems offer a broad portfolio of system choices that fit most budgets. Many are FIFA-certified.
 Available Options:
XtraGrass- AstroTurf holds the patent on XtraGrass, a product which augments a living natural grass system with synthetic fibers for added durability. This is an investment for facilities willing to devote the maintenance to a natural grass field.
AstroPlay 3D- Grass like traction with reduced torque to lower extremities. Less infill spray. Consistent shock attenuation. Improved durability. Enhanced energy restitution with pad, and especially with organic infill.
AstroPlay DT- Rubber-free, non-controversial turf system. Densest system on the market for unparalleled return on investment. Excellent shock absorption and energy restitution.
AstroPlay Q- Tire-Free. Pad and lightweight infill (good playability). Blends the High Micron mono and slit film fibers, delivering aesthetics and durability at a more accessible price point.
 Best Use: (Football)
Basic Series
AstroTurf's Basic Series is a good choice for clients that want to increase the playing time and performance of their sports fields.
Although these systems lack the advanced features found in more engineered AstroTurf systems, they benefit from AstroTurf's legendary quality control protocols and industry-leading R&D efforts.
Benefits:
Manufacturing with unmatched quality controls
Multi-ply primary backing system for dimensional stability
Polyurethane secondary backing system featuring soy-based BioCel technology
Available Options:
MTHM- Uses the high micron monofilament fiber. This 365 micron fiber is AstroTurf's thickest and most durable mono ever, reaching 150,000 Lisport cycles. The High Micron fiber creates grass-like aesthetics.
XPE- Uses slit film fibers for exceptional resistance to wear. XPe is a reliable choice for high use facilities.
Q System- By combining slit film and High Micron fibers into one system, the Q system offers durability and aesthetics.
Best Uses: (Multi-Sports)
Classic Series
Pure Grass Polyethylene Nylon (PGPN)
A super premium high performance surface that simulates real grass in every imaginable way. All nylon, tufted monofilament turf that is ideal for portable and permanent, indoor and outdoor fields.
Designed for both portable and permanent indoor and outdoor fields. It is available as a tufted monofilament turf (AstroTurf PureGrass HPG), and as a knitted monofilament turf (AstroTurf PureGrass UPG). AstroTurf PureGrass is compatible with a number of shock pads and base options. Base construction can be concrete, crushed stone, E-Layer or asphalt.
Related
Tagged under:
artificial grass
,
artificial turf India
,
astroturf
,
Bengaluru
,
chandigarh
,
chennai
,
delhi
,
football
,
hyderabad
,
india
,
kolkata
,
multisport
,
mumbai
,
Products
,
pune
,
turf