adidas The Base Plaza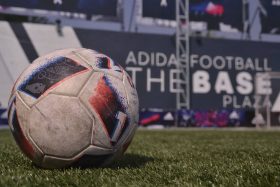 The adidas Football revolution rolled into Berlin in epic fashion followed by the most influential names on the Berlin freestyle scene, the hottest local DJs and a couple of World Cup winners thrown in for good measure.

On the eve of the Champions League Final in the heart of the city Adidas hosted a night of electric playground football under a shower of strobe lights and huge beats. The forecast in the German capital as Adidas strolled into town with a new found swagger. In an exhibition of small-sided football Adidas introduced its very first footballing platform to the public the "The Base"!'
This was used to describe the launch of adidas THE BASE in Berlin in 2015 and then India got its very own The BASE as well.With already centres in Moscow and Johannesburg adidas announced the launch of its first ever urban football destination in India 'The Base Plaza' to promote the sport of Football and provide football enthusiasts a world class football experience in Chattarpur, New Delhi.

The BASE has been designed keeping in mind the needs of the new age urban footballer and aims at redefining their playing experience. 'adidas The BASE Plaza' was inaugurated by Indian cricketers and adidas athletes Rohit Sharma and K.L Rahul along with former Nigeria International and FIFA world Cup player Rabiu Afolabi.
The 2.5 acre property boasts of two pitches- A natural pitch of 24,000 sq.ft which can be divided into two small pitches for 5V5 football and sports including cricket.
The highlight of the facility though is the AstroTurf 3DX 52 artificial playing
field which is the surface of choice at 'The BASE Plaza' . It is a 8900 sq. ft artificial pitch that uses the well-known 3D root zone technology with a face yarn of 10,000 denier XP + Slit Film and 5000 denier nylon as secondary fibre. It's the first of its kind in India and the arguably the best small sided pitch to have been installed in India.
The AstroTurf 3DX 52 didn't take much time to find favour with not just the players but the stars as well.

Speaking at the launch, Dave Thomas Managing Director of adidas India had special praise for the pitch "The surface is fantastic, it's called a 3DX Root Zone technology but what you need to know is that it's of the highest global standard, FIFA approved to very a high level. Rabiu who has played two World Cups for Nigeria, has played a lot in Europe and in the UEFA Champions League, said that in most European communities or cities they don't have that quality of pitch so I think it's really fantastic."
Both Rohit Sharma and KL Rahul who are avid Football fans and active Footballers had special praise for the surface. KL who is more than nifty with his footwork mentioned that the surface was amongst the best he had played on anywhere and experience no pain in his knees or ankles which is usually associated with certain artificial surfaces.

Anglian Management Group along with our partners Fraser Edwards are the exclusive AstroTurf India strategic and marketing partners. SystemRex Turf Systems are our infrastructure partners to put these wonderful projects together. We are extremely proud to have been part of this unique project.
If you wish to install the best AstroTurf products at your sporting facility please reach out to us at contact@anglianamanagementgroup.com or call us on +91 9811290411 to have our sports experts speak to you at length about the benefits of having AstroTurf.
Related
Tagged under:
adidas
,
artificial grass
,
artificial turf India
,
astro
,
astroturf
,
AstroTurf3DX 52
,
football
,
FraserEdwards
,
Kl Rahul
,
Rabiu Afolabi
,
Rohit Sharma
,
SystemRex
,
The Base Plaza