Sky and new market entrant DAZN pick up majority of exclusive 'Serie A' domestic broadcasting rights.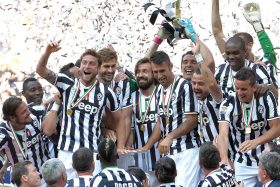 Paradigm shift in Sports Media continues as OTT service DAZN secures exclusive broadcasting rights for Serie A with Sky.
Subscription TV network Sky and DAZN (The OTT service owned by digital sports media company Perform) have secured the domestic coverage of Serie A's (Italian top flight club football) broadcasting rights. According to this deal, which is launching DAZN as an OTT service in Italy, gives the streaming platform exclusive rights to broadcast 114 matches each season over the next three seasons. Meanwhile Sky, gets exclusive rights to 266 of its matches for the same three year period till 2021.
"The contract is worth more than USD 1.2 billion preseason, however the figure could increase further by USD 115 million based on the results achieved by Sky and DAZN in terms of subscription and revenues", Lega Serie A chairman Gaetano Micciche was quoted as saying.
DAZN's global presence already extends in Germany, Austria, Switzerland, Japan, and Canada and now in Italy. The deal signifies the first time that Serie A's rights have been awarded exclusively to a live and on demand streaming service in Italy. DAZN's package includes Saturday night's match at 20:30 (CET), two matches at 12:30 pm (CET) and 15:00 (CET) on Sunday as well as three matches for every midweek round of fixture. "The sport industry is ripe for disruption," said DAZN chief executive James Rushton. "Consumer behaviour has been transformed by technology, with streaming becoming the new norm for viewing content, he added.
Interestingly, the agreement between Serie A and Sky-DAZN follows the growing trend of sport fans increasingly moving to the digital platforms for viewing purposes. Tom Thirlwall, CEO at digital network Bigballs Media said "Companies are seeking to connect with a young and mobile-centric audience and, frankly, trying to work out where their business model is going to be in ten years' time." Moreover, the Sport and Sports media picture has become even more complicated ever since traditional media houses started collaborating with digital platforms. "It's not black and white in terms of old versus new where one dies for the other to survive," Thirlwall added. "What we've seen is the emergence of a blended revenue model in which major media organisations are working more and more with punks and pirates like us. It's not their model to appeal to a young audience in the way we do."
The Extent of Digital Sports Media's Reach:-
The direct-to-consumer possibilities opened up by OTT platforms, however, mean a sports Media Company needs either tremendous content breadth that appeals to all consumers in a household or to serve a specific audience in tremendous depth.
It is the former category that networks like DAZN fall under. Launched by media group Perform last year as the self-proclaimed Netflix of sport, DAZN aggregates rights (rugby, American football and the European football leagues) and streams direct to fans in multiple regions.
Then there are sports like Major League Baseball (MLB), National Basketball Association (NBA) and World Wrestling Entertainment (WWE) which been able to leverage the rights available to them to create successful SVOD (Subscription video on demand) products.
While Sports fans continue to migrate towards streaming services, traditional media still continues to be the leading viewing platform for major live sports and therefore money continues to flow for Pay-TV broadcasters. However, just like Sports Media, the opinions and preferences of the Sports fans continues to be divided which makes it highly important for media right owners to play safe by catering to audiences that like to tune in as well as provide content to those viewers who don't watch Pay-TV.
Related
Tagged under:
AC Milan
,
amg
,
anglian
,
anglian management group
,
Anglian Sports
,
AS Roma
,
Buffon
,
DAZN
,
digital
,
fifa
,
Fiorentina
,
football
,
Inter Milan
,
Italy
,
Juventus
,
League
,
Napoli
,
OTT
,
Serie A
,
Sky Sports
,
Soccer
,
sports
,
TV
,
Video