Milan Singh- An AMG athlete and the heart of midfield for Delhi Dynamos FC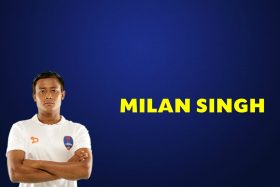 This is just the beginning of what promises to be a special career for one of India's hottest football talents
. Hailing from a nondescript village in Manipur in Eastern India (a land where, for a change, football held more significance and relevance that cricket), young Milan was intrigued by the game. His high school coach played a sterling role in his development. At only a shade under-18 did Milan burst into the national scene, competing at India's biggest and most influential league the I League. 24-year old prodigy Milan Singh is definitely an exciting future prospect for Indian football, and is set to get better with age.
Singh has a heap of experience under his belt in his relatively young career that started early. Before representing 3 different teams in the I- League, Milan started his career off as a 15 year old at the Tata Football Youth Academy. His best stint came with his first team at professional level- Pailan Arrows for whom he scored 7 goals in 40 appearances. His first goal, as a matter of fact, came against his former youth academy club, East Bengal in 2011, when he was just 18.  His consistent performances with the Arrows meant he was benefitted with a call up from the India U-23 National Team in 2012, when he had just turned 20. He has represented India at the highest youth level 6 times since. In 2014, Singh also had a brief stint with North East United FC in the ISL which wasn't albeit fruitful, as he only managed to play 5 games the entire season and failed to hit the net.
Now an athlete committed and associated with Anglian Management Group, Milan Singh has been instrumental in Delhi Dynamos' domination this Hero Indian Super League season. The attacking midfielder has showcased the right blend of passive and aggressive football this season to be the most prolific playmaker in the Delhi Squad. He has been one of the mainstays of the Delhi attack and the reason for Delhi's top spot and most goals scored this season.
He has successfully completed over 250 passes this season, not only the best by far in his team but the third best in the league. His consistency of successful passes is over 72% is easily the best among all midfielders in his team. His passing and attack has been top class, but his defensive play has been even better. He has completed the 8th most number of successful tackles and has complemented his defenders exceedingly well, even single handedly bailing the team out on many occasions.
As the tournament slowly heads to its business end, the way Milan Singh conducts himself defensively as well as in attack will be crucial for Delhi. Singh has all but cemented Delhi's place in the playoffs, and it will be interesting to see how this exciting young talent reacts to the more demanding situations as the tournament gets tighter.
Related