Goals for Girls Leadership Summit 2018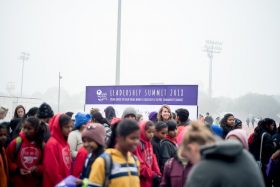 Girls helping girls through soccer, friendship and service
After successful summits in 2014, 2016 & 2017  the Goals for Girls team and staff came back for their fourth stint to New Delhi, India in 2018 with the same message and goal "Using the unique platform to help open the eyes of young women to the wide array of perspectives and challenges that exist outside their own small sphere and instil within them the knowledge that they have something powerful to offer the world."
Each time the Goals for Girls crew visits India they bring along an amazing squad of young and energetic girls and a tireless bunch of hardworking staff members. However this time there was one very special person who was present within the G4G staff with us at the summit and that was no other than the all-star woman herself Lori Lindsey.
Having represented USA at the U-17, U-21 and the first team Lori was a very important guest at the event. Being a woman and having achieved so much in her career she was not only an example but a role model for many of the participating underprivileged girls in a country where a misogynistic society still exists.
Lori was important in spreading the message to the participants that dreams can be turned into reality with passion and hard work.
The event had an impressive turn out as usual with a total of 280 coaches and girls who were associated with some of the most well-known organizations taking part. The likes of Slum Soccer, Magic Bus, Cequin , My Angels, Naz Foundation, Crea, Dream a Dream, Khel Duar, Oscar Foundation, Shining Stars FC, YFC Rurka Kalan, Yuwa, FC Warriors and Foot & Boot were present at the Goals for Girls Leadership Summit 2018.
The participants enjoyed the four day workshop by indulging in a string of outdoor activities which included football drills and exercises and a practice game, and a few classroom sessions where they had group projects and learned about various important topics such as sanitation, women empowerment & rights, upliftment of society etc.
The leadership activities focused on empowering these young women and encouraging them to make healthy choices.
Anglian Management Group being the main event partners were influential in running the four day event smoothly by taking care of the logistics and operations department at the Jawaharlal Nehru Stadium, New Delhi.
Goals for Girls 2018 Leadership Summit Video #IamTheChange
Related
Tagged under:
2018
,
AnglianManagementGroup
,
Cequin
,
GoalsforGirls
,
india
,
JLN Stadium
,
leadershipsummit
,
Magic Bus
,
newdelhi
,
NGO
,
organizations
,
SAI
,
Slum Soccre
,
Soccer
,
summit
,
University of Virginia
,
usa
,
usasoccer
,
women empowerment
,
womensfootball