AMG facilitates tie up between Celtic F.C. & Madhya Bharat Sports Club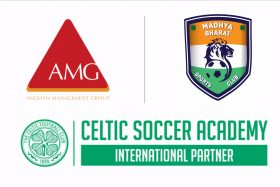 Madhya Bharat Football Academy introduce the first official Celtic Football Club academy in India with the help of Anglian Sports Management Group in Bhopal, Madhya Pradesh.
Being strategic consultants for Madhya Bharat S.C, Anglian were in touch with Celtic F.C for quite some time and highly recommended the club as an ideal fit for the academy's international tie up prospect.
Madhya Bharat Sports Club has signed a six year deal with the Scottish outfit to join their International Soccer Academy program. Based on this deal Madhya Bharat will be Celtic Soccer Academies International Partner in India. This is a major news for the football enthusiasts in India, as it now provides an opportunity to learn the Celtic brand of football.
Celtic FC's academy is a world class academy that has a history and track record of producing players year after year. Celtic FC were very happy to announce the tie up with the Bhopal based sports academy.
Following is the full press release by Celtic FC –
MADHYA Bharat Sports Club has joined Celtic Soccer Academy's International Partnership Programme in a long-term agreement that will see the Academy work with the club to implement a football development model in Bhopal, India.

This partnership follows previous successful relationships in India with both The Mahindra Group and two-time national league champions, Salgaocar FC.

Madhya Bharat SC have a promising academy set-up which is focused on the development of young players through world-class coaching and academic programmes, offering a unique combination of sport and study across residential and day-boarding player development centres in the area.

Celtic Soccer Academy have committed to a substantial coach education programme to help develop the standard of coaching available to young Madhya Bharat SC players.

Madhya Bharat SC's founder and CEO, Rishish Dubey said: "We are very pleased to join hands with Celtic FC, one of the best clubs in the world.

"We visited the academy and were very impressed with Celtic FC's youth program. The values of the club are a major reason we have partnered with them.

"I believe that Celtic FC is the right club to come to India to help us develop footballers and coaches with the results of development of Indian football within the Central India region."

Celtic Soccer Academy has over 70 official partner clubs across the world, taking the ethos of talent development, fair play and social interaction through football into many countries worldwide.

Celtic FC's International Soccer Academy Manager Tony Massie added: "We are delighted to add Madhya Bharat SC to our International Club Partnership Programme and again emphasise our commitment to building relationships across the globe.

"Madhya Bharat SC is a very ambitious and progressive organisation and we are looking forward to a long and prosperous partnership with the club."
Celtic F.C Official Press release: http://www.celticfc.net/news/12451
Directors of Madhya Bharat Sports Club expressed their excitement and happiness on the successful tie-up.  Mr. Vikas Sharma, who had visited the Celtic FC academy previously looked forward – "We believe that this will contribute in developing football in and Central India. It is a good development for Bhopal City."
Mr. Khurana told us, "Celtic FC is a very big club of Scotland. Its history and track record of producing players from the academy speaks for itself. We will make sure the players from all across the country get an opportunity to train the Celtic Way! ".
Madhya Bharat Sports Club: http://madhyabharatsportsclub.com/index.php/2017/04/21/madhya-bharat-sports-club-signs-six-year-deal-with-celtic-football-club/
Related
Tagged under:
amg
,
Bhopal
,
Celtic
,
coaching
,
Glasgow
,
Madhya Bharat
,
Madhya Pradesh
,
Scotland
,
Soccer
,
Soccer academy
,
sports
,
youth