Anglian Sports Management Group appoints Ashish Negi as Manager Talent & Alliances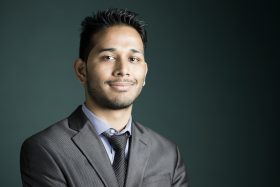 Every great dream begins with a dreamer
A Computational Science and Engineering graduate with a successful academic history and social media track record and bags of enthusiasm, Ashish Negi is the anchor of Khel Now, who with his sheer hard-work, support from the leadership and drive has established this unique platform for Indian football fans.
He's a bright, articulate and numerate individual who has been repeatedly recognized for: creative, conceptual and analytical talents; social media skills and design proficiency; with exemplary work ethic.
His most unique attribute is the ability to combine technology with sports to create material that demands attention, creates desire and compels action.  Ashish is a multi-linguist individual experienced in managing various social media pages who loves to harness his technical skills, social media work experience and creativity towards making a significant contribution to the growth and development of the company and thereby develop himself.
Ever since his days as a teenager he has been around one or other sport, from captaining his school cricket team to acquiring impeccable knowledge of the Indian football industry. While heading Khel Now, India's fastest growing social network for all-things sports related to India as well as South and South East Asia, he has used this innate enthusiasm for sports to its fullest.
Khel Now is India's #1 for football/soccer and is growing rapidly. Ashish is very well-connected amongst the various football stakeholders across India, Asia and Europe.
During his time at university, he started a Facebook page" Indian Football Team" that in time became for all things Indian football.
Recently the All India Football Federation, Indian football's governing body, made his page the official page of the Indian National Football Team. Thus, a single young man organically created a buzz with 300,000 fans.
After leading Anglian's group company Khel Now as Country Head for three years, Ashish will now also be assisting Anglian Sports Management group in their Talent Representation and other business verticals. He will be working with a duo of highly capable and experienced professionals Prasad Kapre (ASMG CEO) and Siddharth Deshmukh (Head Talent & Sponsorships, ASMG)
We have full faith in Ashish's capabilities and wish him all the very best in his new journey at the company.
Related