AMG Appoint New Chief Operating Officer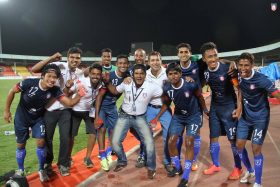 Former Bharat FC Head of Operations Prasad Kapre joins Anglian Management Group as COO
 Talent wins games, but teamwork and intelligence wins championships- Michael Jordan
Following this motto Anglian Management Group bring in Prasad Kapre as their new Chief Operating Officer.
Prasad who is a senior management professional with a double MBA, brings with him 13 years of experience across sales, business development, operations and marketing in the field of IT and Sports.
A seasoned IT professional Prasad decided in May of 2009 to follow his passion of sports and particularly Football by joining a Football training academy called 'Soccernova Football Academy'. Post his stint with Soccernova; Prasad pursued the coverted Football Industries MBA course at the University of Liverpool, UK in 2010.The course provided him with global expertise on various aspects of football such as Marketing, Club Finances and Sports Law. While studying he also got a chance to work at Manchester United Club on match days on various aspects such as hospitality, security, corporate boxes etc.
He joined Machdar Motor Sports company upon his return from Liverpool followed by a health and wellness start-up before he was offered a position at Kalyani Bharat FC, Pune. Kalyani Group backed group was in inception stage in Pune. He worked on legal aspects of contracting players & coaching staff, liaising with AIFF for club licensing, working on sponsor programmes, club and match-day operations.
"I am extremely happy on joining the team, Anglian are one of the few sports management company's who are working purely on the management side of football. Apart from the usual verticals such as Marketing, Representation and Sponsorship they are working on improving the sports infrastructure sphere in India by being exclusive partners for AstroTurf. It's a new challenge for me and I hope to add as much value as I can to the company!"
Prasad is a fitness enthusiast and keeps himself in shape by playing football over the weekends and few gym sessions during the week.
Team AMG would like to welcome Prasad to his new family and hopes he takes the company to new heights.
Related